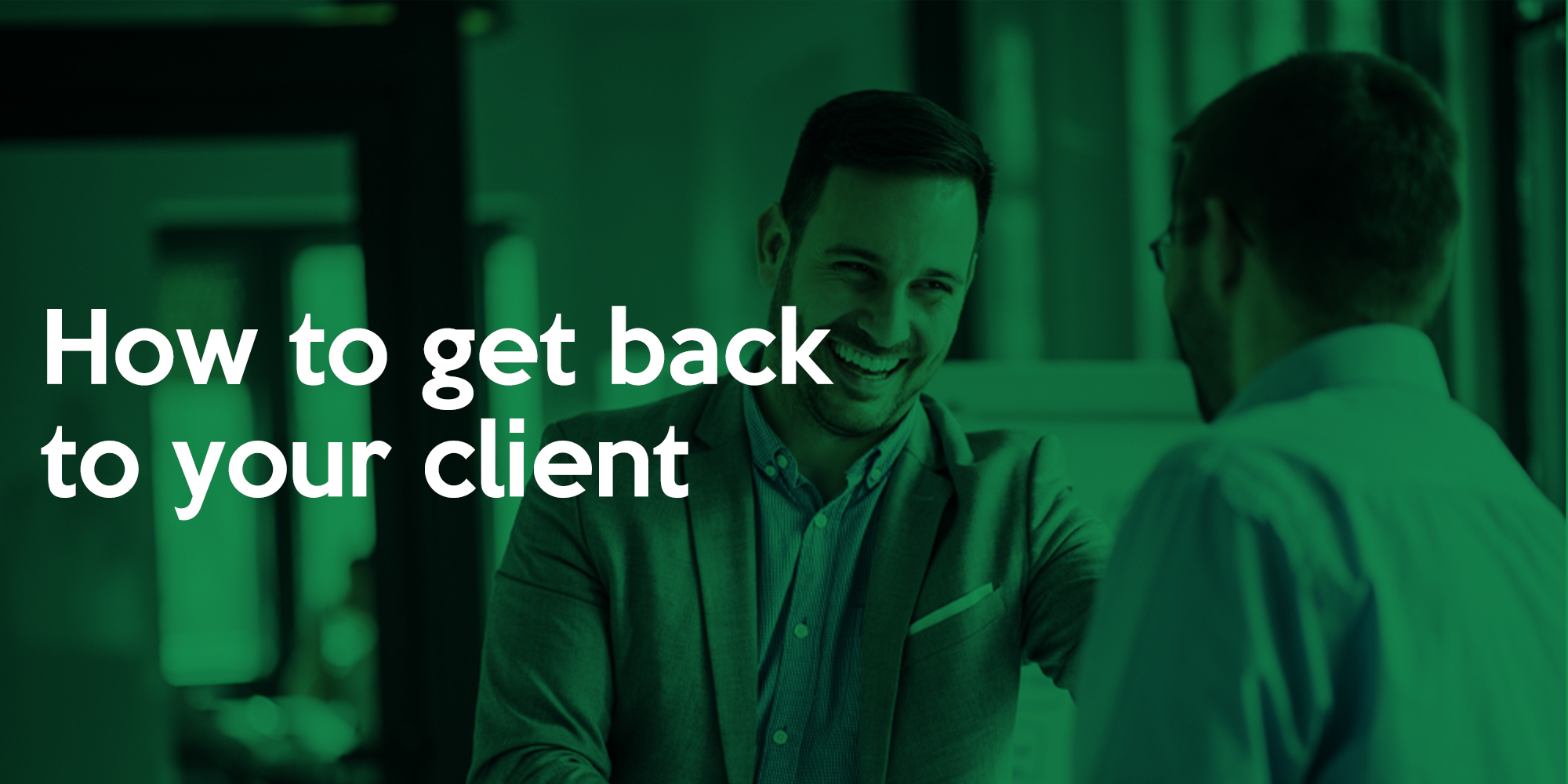 How To Get Back To Your Client
The idea of losing a client is tough and throughout the past month we have been trying to know and do our best to help you survive this kind of heart-breaking breakup.
We all know that whoever leaves might come back. We believe that anything can be fixed even those hard breakups.
We have advised you on our previous Facebook posts to always keep a good relationship with your ex-clients and always stay in touch with them.
This point can help you get back easily with them.
Also, in one of our previous posts, we discussed with you the importance of knowing why you guys broke up.
So here we give you some of the reasons that may cause a breakup and we will propose some solutions to help you win back your ex and improve your work relationship.
The first and most common problem is the Pricing problem. We have all faced the problem of clients complaining about the prices of the services we offer and how expensive they are. Some of them think that the price they pay is huge for the services they take in return. To solve this problem, we propose that you discuss with your client either a reasonable discount or propose seasonal packages. Small treats for your favorite clients such as a discounted package as a Christmas gift or a discount during the feasts time. Just make sure that whatever pricing policy you both agree on is a win/win situation.
The second problem may be a Delivery time problem, such as their requests are not delivered in the right time which might be a common problem and is a huge one. To solve this problem, you need to follow some serious steps and have some serious change in your strategies. To overcome this problem, you need to master time management for your team, and this is done following different strategies, either the task per hour strategy or the task per day strategy. The task per hour is to assign certain time or number of hours for your team to finish this task. Regarding the task per day, it is originally done for huge or big tasks and it is the fact of assigning a certain number of days to finish this task. However, here are some tips for you:
1.Make sure you don't stress your team or overwhelm them with work and tasks.
2.Make sure that the assigned time for each task is reasonable and compatible with the task type.
3.Make sure that the deadline you put for your team's tasks is before the deadline of the client to have enough time to review and edit as much as you can not to get stuck or something.
The third problem that you may face is a Work quality problem. Some clients might not be very satisfied with the quality of work your agency offers. So, you need to make sure that the clients know that you are delivering the best that could be served for their requirements. You will also need to always work on improving and updating the skills of your employees by researching and suggesting courses to sharpen their skills. Not to mention that you need to recruit skillful employees.
The fourth problem is the "On the spot requests". It is when your clients have surprise requests that they require right before the deadline. These surprise requests cause major stress for you and your employees to finish the task at a very early time and they might end up not liking the delivered product.
To solve this problem, you can do a task sheet. What's a task sheet? It is a shared sheet between you and your clients. In this sheet, they include the required tasks and the due dates, and you assign the delivery date and that any edits require more hours and need to be added to this sheet.
The fifth problem is that Your clients don't like your ideas or think they are bad ideas. This is a major problem and it reflects the lack of trust between you and your clients. To solve this problem you need to spend more time brainstorming and to schedule meetings with your clients in which you ask them lots of questions to be able to understand their strategy, their point of view and the way they think and see everything.
The sixth problem is the Lack or miss communication between you and your clients.
It is a major problem that will cause a lot of conflicts and wrong decisions. To avoid this problem we suggest you create a WhatsApp group with your clients and agree on a certain plan or a certain process to facilitate the communication between you both and make it easier to reach them for any questions and they reach you for any edits. There are some online software that help you create projects and give a limited access to your clients to help you stay connected and avoid miss communication.
You can also arrange scheduled monthly or weekly meetings to update each other's status and be able to follow up with the work.
Lastly, the final problem is the client's bad behavior. This is a very common problem that you shouldn't skip, neglect, or ignore. If this problem occurred to your team the first step you should do is to give them a warning that this attitude is not acceptable, and you don't approve on following such a bad behavior in your team. If this problem happens again, you should terminate the contract and never go back to this client.
At the end, let the bird fly. If it comes back to the nest, it means it came back home. Let them go free and try other agencies and let your work speak for itself you are good enough and they will return sooner or later.